Compared with other industries, the sex toys industry demands a higher degree of privacy. Fettered by the traditional concept, the sex toys industry has been developed at a slow speed. As young people born in the 80s and 90s enter the society, the number of people buying sex toys has grown by more than 50%. The following is an overview of the sex toys industry and its status quo analysis.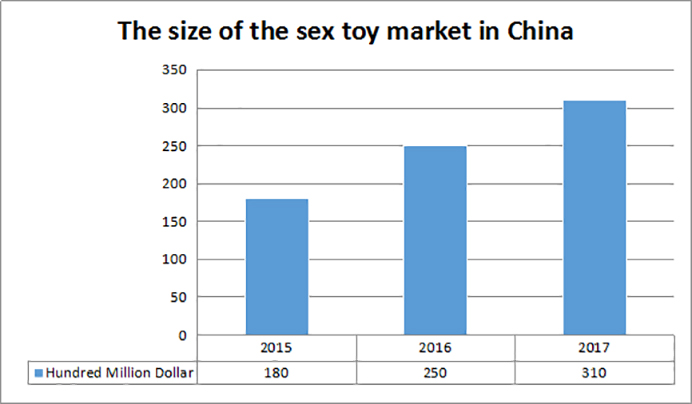 With the improvement of the national cultural quality, China supervision of the sex toys industry has experienced a process from prohibition to strict management and control, then benign guidance, and then sustainable development. Besides, China's attitude change in the supervision has indirectly confirmed our people keep rational knowledge about the sex culture, which has stimulated the consumption demand for sex toys. The overview and status quo of the sex toys industry are introduced as follows.
An overview of the sex toys industry in China
Sex toys include BDSM supplies, sexy lingerie, vibrating eggs, fake penis, vibrating appliances, masturbation cup for delay training, etc. It refers to that by using some auxiliary supplies, adults can get some aid in their sex life. This can enhance sexual interest, improve sexual quality, and bring positive effects to people's sexual health. For example, for women who are going through menopause, they can use sex toys to maintain their vagina vitality, so as to avoid urinary incontinence and other diseases. Moreover, some doctors also recommend sex toys to those women who can't reach their sex orgasm.
Status quo of the sex toys industry in China
The global market size of sex toys is not large. In countries and regions such as Europe, America, and Japan, condoms and sex appliances are categorized into two different industries, and few are sold in a combined industry. The sex toys in Europe and America are basically OEM in China and mainly sold by retailers and wholesalers. Generally, what they sell are those already received by users. Still the main sales channel now is the physical store. In Europe and America, the sales volume of pornographic magazines, DVDs, oral medicine, and sexy lingerie of physical stores is much larger than those in China. But it is notable that recent years have witnessed the increasing proportion of online sales (mainly the sales and supplies on Amazon.com) to the total figure in almost all countries.
With regard to the ecological industry chain, China's is relatively simple and has yet to achieve intensive large-scale development. Either the factories or the retailers are distributed in a small and scattered way, and are lack of strong and competent rivals. China is a main producing country of sex toys. However, China's market is not the focus of the Chinese sex toys manufacturers. They focus on the European and American areas and develop& designs more suitable for them. Most of the China-made products are exported to foreign countries: the ratio between exports and domestic sales always maintains at around 9:1. From 2011-2017, the number of people who purchased sex toys on Taobao grew by 50%+ year by year. Particularly in 2017, the number of people who bought sex toys on Taobao reached about 40 million, 1.2 times that of 2016. Moreover, 30,000 pieces of sexy lingerie and 1,500 inflatable dolls were sold each day that year.
At present, there are 500 production enterprises and about 200,000 online and offline retail stores in China. However, the manufacturing and sales are both quite scattered. On the current market, the popular smart sex toys emphasize more in intelligence and human-computer interaction. In this context, a group of greater importance - the couples - has been inadvertently overlooked. All these make it difficult for manufacturers to design and manufacture the best-selling products and stand out among those competitors.
It can be found in the overview and analysis on the status quo of the sex toys industry that sex toys and adult toys refer to the tools giving aid in sex behaviors or helping people reach sexual pleasure. In late 1990s, a Chinese-style "sexual revolution" occurred, with the implementation of the reform and opening up policy and the consequent permeation of the western culture into China. This helped expand the sales of sex related commodities on the market. Nowadays, sex products can be seen everywhere in people's lives, and sexual culture is vigorously promoted by merchants also. This is because the products generate huge profits for them and meanwhile satisfy the sexual desires of both men and women.
In future, the progress in sex concepts will contribute to the rapid growth of consumer groups, the "repressed" demand will release, and the innovation of the product design and functions will increase. All these, together with the institutional capital, will inspire brand new vitality of China's sex toys industry. It is expected to become another multi-billion niche market after medical E-commerce. It boasts an enormous potential for development.
In a word, China's sex toys market size is appreciable now. The business is returning to the stage of positive development and is entering a high-speed growth period. The in-depth combination of E-commerce, mobile internet, and sex toys enables B2C E-commerce of sex toys to be the most eye-catching business model in the industry.
All above is the overview of the sex toys industry and its status quo analysis in.